Liposuction Can Help You Achieve the Trimmer Figure You Desire
Dr. Ashish K. Jain and Dr. Prendergast are dedicated to helping their patients achieve their desired aesthetics through safe and advanced cosmetic surgery procedures. They takes their time with each and every patient, employing meticulous techniques for each individual case. If you struggle with stubborn fat deposits, Dr. Jain and Dr. Prendergast can help you improve the contours of your figure with liposuction performed at their state of the art Ambulatory Plastic Surgery Center in Columbus, GA. The attention to detail and their personalized approach can help you achieve superior results.
Liposuction: An Overview
Liposuction is a popular procedure that is used to remove fat from the body in strategic locations, providing patients with more enhanced and contoured figures. This treatment is especially beneficial if you have stubborn deposits of fat in areas that are difficult to target through diet and exercise. Liposuction is commonly used in the abdomen, thighs, back, and flanks. However, the procedure is safe and effective in other areas as well, such as the arms, face, and neck, and is sometimes used during breast reduction surgery.
If you have stubborn deposits of fat that do not respond to diet and exercise, liposuction can help you achieve the silhouette your want.
Liposuction is also regularly performed at the same time as other procedures and as part of other treatments. A tummy tuck will regularly include liposuction to help remove stubborn fat in the abdomen before removing excess skin for a tighter, flatter midsection. Thigh lift and arm lift surgery often incorporate the technique as well. It is important to note that liposuction is not a form of weight loss, and cannot serve as a substitute for proper nutrition and exercise. Patients should be in good overall health and near their ideal weight in order to undergo this procedure.
If you are looking for a non-surgical alternative to liposuction, we also offer CoolSculpting®. CoolSculpting helps you target and freeze fat cells in stubborn areas, then eliminates these cells from the body through natural processes. During your consultation, our team can help you determine if you qualify.
The Procedure Process
Before your procedure, you will receive appropriate anesthesia and sedation. Typically, patients receive general anesthesia to ensure their comfort during the procedure. Dr. Jain will begin the liposuction procedure by using a specialized cannula (a thin tube that is inserted through small incisions). By moving the cannula back and forth, he is able to break apart fat deposits, and remove the fat from your body. In some cases, this fat may be purified and reused for procedures such as fat grafting or a Brazilian butt lift. Once the desired amount of fat has been removed, Dr. Jain will close your incisions.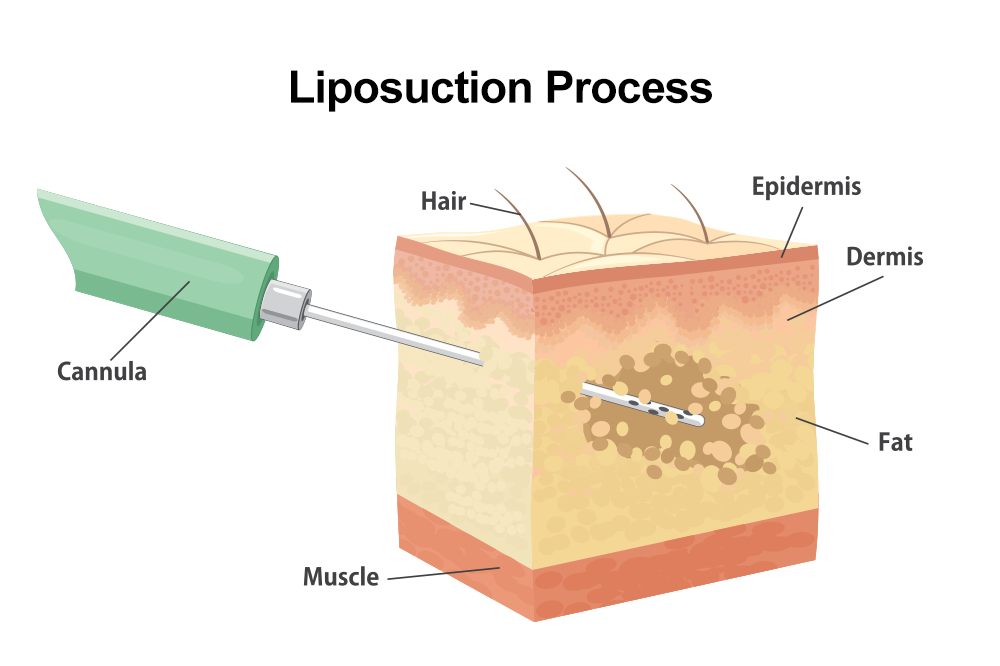 Recovery Timeline
Most patients are able to return home and are up and walking the same day as their procedure. Light walking during recovery is good to improve circulation, but you should avoid full exercise until cleared by Dr. Jain. Many patients only require a few days of downtime and are able to return to work in about one week to 10 days. During your recovery and for a couple of weeks afterwards, you will need to wear a compression garment. This garment helps your skin shrink to its new contours while reducing swelling and inflammation.
Achieve Your Desired Contours
If you have stubborn deposits of fat that do not respond to diet and exercise, liposuction can help you achieve the silhouette your want. Dr. Jain is dedicated to focusing on the exact needs of each patient and can discuss your goals in detail. Contact our office today to schedule your personal consultation.