Are you frustrated with stubborn pockets of fat that don't respond to diet or exercise, no matter how hard you try?
Liposuction can effectively remove pockets of excess fat to define your contours and slim your figure.
Dr. Ashish K. Kain offers liposuction in Columbus, GA, to help patients achieve the slimmer figures they desire.
Struggling To Get Rid of Excess Fat?
Contact Our Georgia Practice
Sometimes, even diet and exercise are not enough to get rid of the stubborn excess fat cells that hang around our stomach, hips, arms, and thighs. If you desire help to finalize your weight loss journey, contact our Georgia plastic surgery practice. Our experienced plastic surgeon uses the latest liposuction techniques to provide top-quality results.
Enhance Your Contour With Advanced Techniques
Boost Self-Esteem
Excess fat can make you feel self-conscious and insecure about your body. Renew your confidence and love the way you look and feel with liposuction.
Eliminate Problem Areas
Say goodbye to pesky problem areas for good. Liposuction addresses fat deposits in areas that are difficult to target through a healthy lifestyle.
Immediate Results
Like all surgery, liposuction requires some downtime for healing; however, patients can notice an immediate difference after the initial swelling has subsided.
Feel Your Best
Excess fat can make us feel uncomfortable. It can lead to body aches, excessive sweating, and an overall feeling of unease in certain clothing. Removing this fat can improve the way you feel, promote a healthier lifestyle, and reduce certain health problems.
Calculate Your Body Mass Index
IDEAL LIPOSUCTION CANDIDATES HAVE A BMI UNDER 40
Ready To Enhance Your Figure?
Contact Our Georgia-based Practice Today!
Although liposuction is not considered weight loss surgery, it can remove a few pounds of stubborn fat cells that hang around after diet and exercise. When performed by a board-certified plastic surgeon like Dr. Ashish Jain, liposuction safely and effectively contours, defines, and slims the targeted areas to enhance your figure and self-esteem.
If you want to explore liposuction and the benefits it can provide, we invite you to contact our Columbus, GA, practice.
"Wonderful, professional, and friendly staff."
Our 5-Star Reviews
Wonderful, professional and friendly staff. Dr Jain is fantastic, so happy with my results. He takes time to explain everything and is very meticulous. If you need anything done, don't hesitate to use them.
View On Google
Everyone is welcoming. They listen. Dr Jain is easy to talk to and kind. They are helpful.
View on Google
Which Areas Can Liposuction Treat?
After traditional weight loss methods like diet and exercise have been exhausted, liposuction can slim down areas all over the body, including:
Chin and neck
Upper arms
Breasts and chest area
Abdominal region
Hips
Waist
Back
Buttocks
Thighs
Inner knees
Calves and ankles
See Results Before Committing
Are you interested in getting a preview of how you'll look after body contouring? Vectra M3 3-D is an advanced imaging system that allows you to preview your results. This machine is extremely accurate and allows our plastic surgeon to plan your cosmetic surgery case with the utmost precision. We find that allowing patients to preview their results eases many of their concerns and gets them excited about their future bodies.
Visit Our Private Surgery Center
We want to provide as stress-free an experience for patients as possible. Our doctor performs liposuction at our state-of-the-art outpatient ambulatory surgery center in Columbus, GA. There's no need to visit a large hospital, which can be overwhelming and stressful. Our fully accredited plastic surgery center gives you privacy, comfort, and peace of mind all in your own suite. We use the latest equipment available to get you results you'll love.
Committed To Providing Exceptional Results
Dr. Jain is dedicated to working with patients to achieve their desired aesthetics through safe and advanced cosmetic surgery techniques. They take their time with every case, using meticulous and innovative techniques for each individual. If you struggle with stubborn fat deposits, our highly skilled plastic surgeon can help you. To schedule a consultation or learn more, call our office serving Columbus, La Grange, and Auburn, GA, at:
We Create Great Experiences and Lasting Results
"Hands down the best experience!"
Hands down the best experience! Everyone there is amazing including Dr. Jain with explaining everything and answering all of your questions. They made me feel comfortable throughout the entire process! Definitely recommend to anyone and no other place I would rather go to!
View On Google
Dr. Jain and his staff are awesome! During my consultation, Dr. Jain and his staff made me feel comfortable from beginning to end. I was referred by two other ladies that gave Dr. Jain and his staff a 5 star experience. I'm so glad I went to Dr. Jain for my consultation!
View On Google
Empowering You Every Step of the Way
We understand that deciding to get liposuction is a big decision. You may have lots of questions on your mind, and we're here to help answer them. Our team at Columbus Plastic Surgery believes in providing patient education and taking the time to walk you through the process, so you know exactly what to expect. We offer an in-depth tour of our surgery center. Please know that we don't expect you to make a decision right away. Take your time to think about it; we're always available to answer any questions you may have.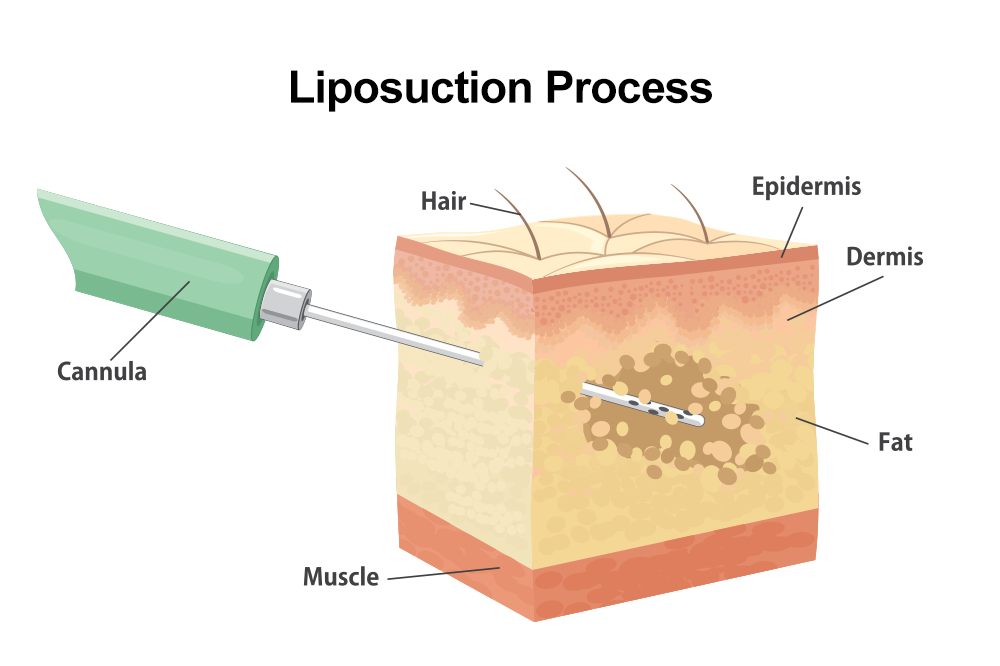 We Use Power-Assisted Liposuction
Power-assisted liposuction is a liposuction technique that uses a vibrating cannula to more effectively break up and remove fat deposits. There are several benefits to power-assisted liposuction, including:
Faster breakdown of dense fat deposits
Less damage to surrounding tissues
Faster recovery time
What To Expect During Treatment
Since general anesthesia is used during this procedure, you will need to make arrangements for someone to drive you to and from your appointment. Liposuction is an outpatient procedure, so ideally, a trusted friend or family member will be able to stay with you in the hours following your surgery to ensure you are receiving proper care.
Liposuction can boost your confidence and enhance your figure.
What To Expect After Treatment
First Few Days
Many patients require only a few days of downtime. Light walking during the first few days is good to improve circulation.
Seven to Ten Days
Most patients can return to work within seven to 10 days following the procedure. Light walking should be maintained, but strenuous exercise should be avoided until cleared by your surgeon.
Two to Four Weeks
During this time, you will still need to wear a compression garment. This garment helps your skin shrink to its new contours while reducing swelling and inflammation.
Following Months
The swelling will gradually decrease, and you will be able to enjoy your slimmer, toned body. You will have to maintain a healthy diet and exercise following your treatment to ensure lasting results.
Managing Discomfort After Treatment
Many potential liposuction patients worry about the pain they may feel as they recover from their procedure. Though patients can expect side effects like bruising, swelling, discomfort, and numbness or tingling at the incision site, side effects will subside over the course of about six weeks.
In the meantime, these side effects and others can be managed with prescription pain medication and antibiotics, cool or warm compresses, and light walks.
Columbus Plastic Surgery Values Your Comfort and Privacy
Our plastic surgeon prides himself on a comfortable and cozy environment that puts patients at ease when they walk through our doors. We also understand that many patients may wish to be discreet about receiving plastic surgery, so we do everything we can to prioritize your privacy, including having our main entrance at the rear of our building.
If you'd prefer to receive liposuction in a relaxed environment that values patient confidentiality, we invite you to contact our Columbus, GA, office:
"I cannot say enough wonderful things about Dr. Jain and his staff!"
I can not say enough wonderful things about Dr. Jain and his staff! From start to finish Dr. Jain was amazing explaining everything with the best bedside manner I have ever experienced. The staff at Columbus Plastic Surgery are second to none and make the experience amazing with exceptional, warm, and caring attitudes. My experience was so great I will never go anywhere else.
View On Google
I felt very at ease with him and his staff. He addressed any and all questions and concerns that I had. I am currently about 5 months post surgery and LOVE my results. The sagging skin and deformation of my stomach where the muscles were split are gone! I highly recommend Dr. Jain if you are looking for a doctor that knows what he's doing!
View On Google
Liposuction as a Body Contouring Technique
Liposuction isn't a weight loss alternative, but a way to remove stubborn fat deposits that won't respond to other weight loss methods. Liposuction is a body contouring technique that will remove about six to eight pounds of fat at most. Patients trying to finalize their weight loss journeys and women who want to restore their pre-pregnancy bodies are typically prime candidates.
Are You Outside of Columbus, GA?
YOU CAN STILL RECEIVE LIPOSUCTION WITH US!
Though our practice is located in Columbus, GA, our plastic surgeon provides care to patients from communities throughout Georgia, including:
La Grange
Auburn
Albany
Newnan
Peachtree City
Thomaston
What Is the Cost of Liposuction?
We understand that the price of liposuction can be daunting. We strive to make treatment as affordable as possible because we've seen firsthand how positively liposuction impacts our patients. Our office in Columbus, GA, works with a number of third-party financing companies such as CareCredit®, Prosper Healthcare, and United Medical Credit to help offset the price of surgery. Our team is happy to assist you through the process and answer any questions you may have.
Frequently Asked Questions
About Liposuction
How Long Will My Results Last?
The results of liposuction are permanent; however, to maintain results, you will need to stick to a healthy lifestyle. Eating a healthy diet and exercising regularly can help maintain your slim results.
Will Liposuction Help Me Lose Weight?
Some patients may lose a couple of pounds from their procedures, but liposuction is not a weight loss surgery. Liposuction is most effective when used to enhance definition and tone areas of the body with stubborn fat deposits.
Is the Surgery Painful?
This is a minimally invasive surgery that results in minimal pain. Following your procedure, you may experience some inflammation and minor discomfort, but since our surgeon uses small incisions, you will have minimal pain when healing.
"I knew immediately that I chose the best physician."
I had been carrying what seemed to be the weight of the world on my shoulders for many years. I knew Immediately that I chose the best physician during my consultation. Dr. Jain agreed that he would be able to meet my needs and give me the results I needed to feel like myself again!
View On Google
Love this place
I Love the staff and I would never go any where else, Doctor Jain is such a GREAT DR. They all make you feel like family, and I have been so pleased with the results of my surgeries.
View On Google