Advanced Laser Tattoo Removal Can Effectively Treat All Ink Colors
In the United States alone, 45 million adults have at least one tattoo, and 17 percent have experienced regret after receiving a tattoo. Whether because of employment opportunities or changes in your life, you may find you want to have a tattoo removed. At Columbus Jain Plastic Surgery, we offer advanced laser tattoo removal for patients in Columbus, GA, and the surrounding areas. Our practice uses state-of-the-art lasers that can effectively address both color and black ink in fewer appointments, for faster and more effective treatment.
How Laser Removal Works
When you get a tattoo, the ink is injected into your skin. Over time, your body will naturally break down the ink molecules, taking them away from the skin. Our advanced lasers help to speed up and improve this process. The laser energy helps to break the ink apart faster, creating smaller particles that are easier for your body to remove. To prevent scarring and marks left on the skin, the ink must be removed in stages to reach the different levels of your dermis.
With our laser tattoo removal, you can get rid of your tattoo faster and more effectively.
The number of treatments you require can depend on the size of the tattoo, the colors used, and the density of the ink. Different colors of ink will respond differently to the lasers. Black ink is the easiest color to remove, while red can be one of the most difficult. However, the state-of-the-art Cutera® enlighten® laser that we use enables us to effectively remove color tattoos, even tattoos that other technology has not been able to treat.
More intricate, professional tattoos tend to be more dense and contain more ink, which may require more treatments to remove. However, the Cutera® enlighten® laser can help reduce the number of treatments you require because of its advanced use of laser energy. With our help, you can get rid of your tattoo faster and more effectively than with other practices.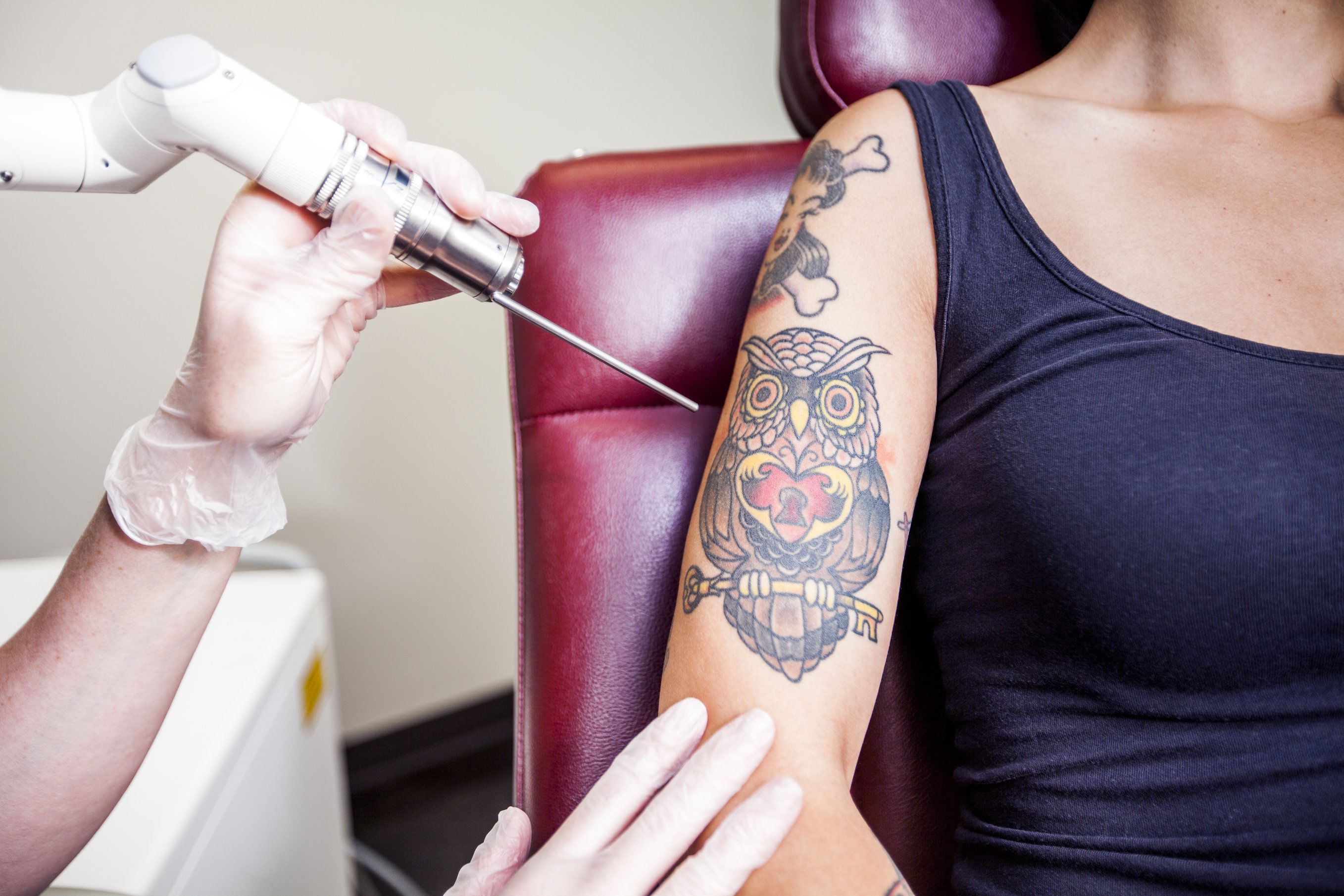 Treatment Process
For your laser treatment, we will first ensure that the skin is clean, and may apply a topical anesthetic for your comfort. Once the treatment area is prepared, we will aim the handheld device at your tattoo tracing over the design. The laser will deliver short, powerful bursts of energy to your skin. This energy can create heat in your skin, which can lead to some discomfort, redness, and swelling. After your procedure, the treatment area will be sore and may scab over. Our office can provide you with topical ointments and creams to help speed the healing process. Once you have fully healed, you can return to our office for the next treatment. Most patients require about four to six treatments for optimal results.
Seeking Tattoo Removal
There are many reasons why patients come to us for tattoo removal. Often, tattoos can affect your opportunities for employment if they are in a visible place or you are under stricter policies, such as with the military. Many patients also have entered a new phase of their life or have the name of a previous romantic partner that they wish to remove. Some patients also need to have tattoos removed because of sensitivities to ink that cause irritation and other issues. Regardless of the reason for your removal, we can provide the effective, advanced treatment you require.
Schedule Your Consultation
Do not let old tattoos limit your opportunities or make you feel uncomfortable. We can meet with you to help you understand the number of treatments you may require. Contact us today to schedule your personal consultation.