Small breasts can make you feel less curvy or feminine, preventing you from wearing the clothes you love and lowering your self-confidence.
To give you the bust you desire, the surgeons at Jain Plastic Surgery can perform a fully customized breast augmentation procedure.
Patients of our Columbus, GA, practice find that breast implants have provided outstanding benefits...
Top 3 Reasons
to Consider Breast Augmentation
Improved Confidence
Having the breast size you've always wanted can help you feel more confident when you look in the mirror, which can benefit virtually every aspect of your life.
Customizable Results
Breast augmentation is a procedure with many variables. Implants are available in a wide variety of sizes and shapes, and can be placed to achieve results ranging from subtle to voluptuous. It's completely up to you!
Most Patients
Are Happy with Their Treatment Outcomes
Breast augmentation is solely designed to enhance the size, shape, and symmetry of your breasts. If you have sagging breasts, you can combine your breast augmentation with a breast lift to improve the projection of your breasts as well.
If you are unhappy with other parts of your body, you can also combine your augmentation with other plastic surgery procedures such as liposuction for even more dramatic results. Our practice, serving the greater Columbus area, including LaGrange and Auburn, is here to help you achieve the results you want.
Important Requirements
for Those Considering Breast Implants
Fully Developed Breasts
Adult women of any age can undergo breast augmentation. It is recommended, however, that a woman's breasts are fully developed prior to placement of breast implants.
Realistic Expectations
Women who understand the recovery process and limitations of the procedure are usually very pleased with their results. In fact, many patients experience a boost in self-confidence following surgery.
Good Health
As with any plastic surgery procedure, you will need to be in good overall health to minimize the risk of complications during your surgery and recovery.
Silicone Implants
vs. Saline Implants
Breast implants are medical devices made with a solid silicone shell. The implant shell may be filled with either saline solution (sterile salt water) or silicone gel. Both types of implants are approved for safe use by the U.S. Food and Drug Administration (FDA).
In addition to the type of filling material, breast implants vary by:
Texture: The implant shell may be smooth or textured to prevent shifting
Shape: The implant may have a round profile or one that is anatomic (a teardrop or tapered shape)
Profile: The implant may have a low, medium, or high projection (the depth of the implant from the base to the highest point of the implant curve)
Diameter: The width of the implant measured across its base (the side of the implant that will be positioned over the chest wall) is customizable
The best choice of implant is based on your body type, your desired increase in size, and other factors. Your age, lifestyle, and surgeon's recommendations are also determining factors.
Enhance Contours and Confidence
with Breast Augmentation
Technically known as augmentation mammoplasty, breast augmentation is a surgical procedure offered at Jain Plastic Surgery, serving LaGrange, GA and Auburn, AL. We can use saline or silicone implants to enhance the size and shape of a woman's breasts for a number of reasons:
To enhance the body contour of a woman who feels her breast size is too small
To restore breast volume lost due to weight loss or following pregnancy
To achieve better symmetry when breasts are moderately disproportionate in size and shape
To improve the shape of breasts that are sagging or have lost firmness (often performed in conjunction with a breast lift)
To provide the foundation of a breast contour when a breast has been removed or disfigured by surgery to treat breast cancer
To improve breast appearance or create the appearance of a breast that is missing or disfigured due to trauma, heredity, or congenital abnormalities
Patient Results
Before and After Breast Augmentation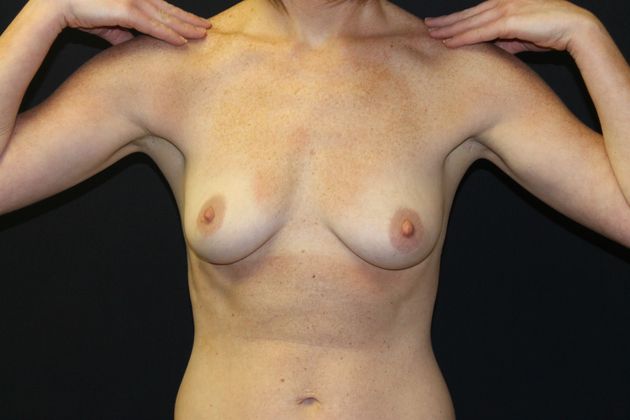 Visualize Your Results
Before Surgery
Jain Plastic Surgery, P.C. is the only practice in Columbus, GA that uses VECTRA 3D Aesthetic Simulation Technology. This incredible technology allows women to visualize their post-surgery breasts before ever walking in to an operating room. The realistic images VECTRA provides allow the patient and the physician to define in precise detail the size and shape of the breasts each woman desires.
The VECTRA experience begins with a 3D photo session during which we capture images of your pre-surgery breasts. Then, using special simulation software on your 3D picture, Dr. Jain or Dr. Prendergast will be able to show you the potential results of your breast augmentation surgery. You will be able to preview different looks until you find the appearance you like best. This final, chosen simulation will become the basis for your surgical plan.
If you prefer a more private method to visualize potential augmentation results, we recommend trying the rice test. The rice test illustrates how to use panty hose and rice at specific measurements to visualize how your breasts might look at different sizes.